Knee Surgeries vs Regenerative Medicine Treatments: What Is Your Best Option?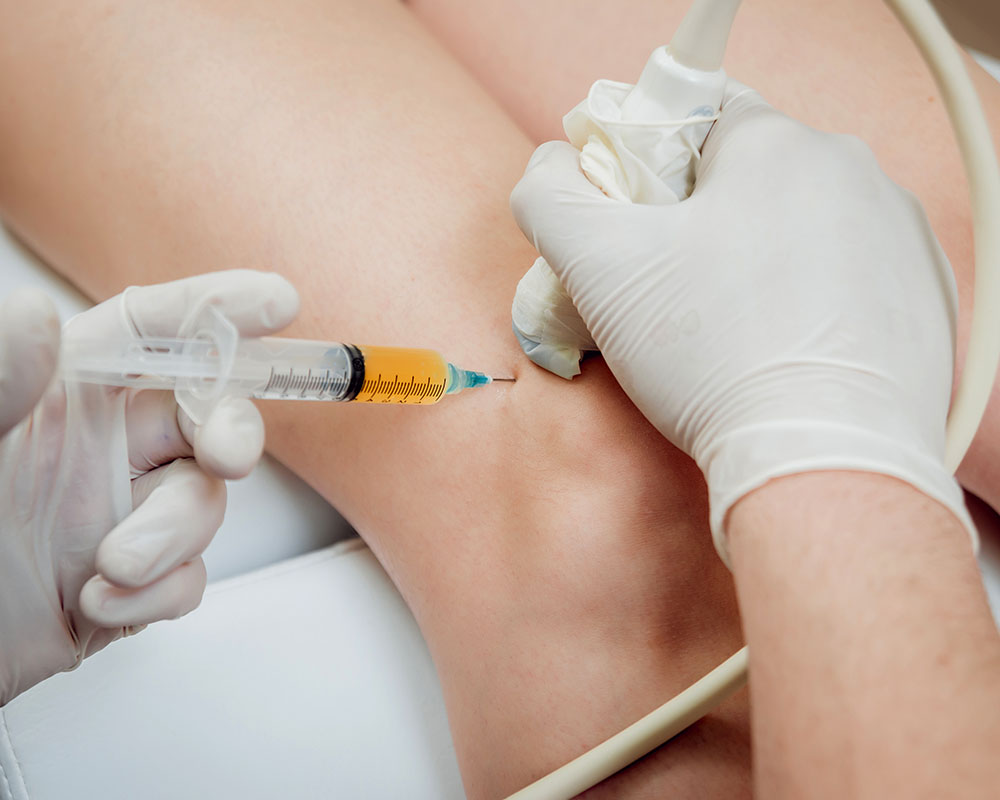 As we age, it is not uncommon for many of us to begin having aches and pains in places throughout our bodies.
One of the most common complaints we see in our practice is knee pain. Although this may be caused by many different things such as a skiing accident or playing sports when we were younger, the fact remains that as we age the wear and tear on our joints can catch up with us.
Most patients begin noticing these changes in their early to mid-30's as a minor irritation due to activities for which they use common over the counter treatments like Advil or Tylenol to lessen the discomfort.
As we get older and the damage progresses, so do the symptoms. The level of treatment patients seeks out also progresses from NSAIDs to doctor visits for more advanced treatments like Cortisone shots or Physical Therapy and Chiropractic visits.
As much as these therapies can help relieve the symptoms from the damage we do to ourselves, it is almost inevitable that as we age the amount of damage, and frustration to relieve the pain, increases as well.
Regenerative Medicine Versus Knee Surgery
One of the common situation's patients find themselves in over time is a visit to their Orthopedic Surgeon. Although most of us do not relish the idea of having to undergo a surgery to correct a problem, for many the treatment goal becomes having to "clean up" the damage in the joint.
The damage could involve a torn meniscus, ligament or tendons, or bone spurs that must be shaved down.
Unfortunately, as we have learned over time, these types of surgeries do not always help in getting patients to an outcome of no pain and normal function.
A study in the New England Journal of Medicine in 2002 found no better outcome for patients having arthroscopic knee surgery relative to the control group that had a placebo procedure done1.
In fact, we have also seen studies indicating a significant percentage of people with meniscal tears confirmed by MRI imaging have no knee pain at all2. With findings such as these, it can be confusing to know what the best options for knee pain is and what alternatives to surgical interventions exist.
Many patients are confused by the different therapy options and do not always understand the newest options available to them such as Regenerative Medicine injections.
The concept of regenerative medicine treatments is to repair the damage in your knee and allow your body to begin the process of healing. The goal is to place a protective boundary over the damage which exists in your knee and help it heal the best it can.
Although the technology to make us 18 again does not yet exist, if we can wind the clock back a bit, we can help regain more normal function and re-establish stability to our older aching joints.
The end result is to preserve the joint you have, restore the function, alleviate pain, and maintain those changes with better habits than those which got us there in the first place.
The process compared to surgery is simple, but first we need to understand the amount of damage and location of that damage in a patient's knee. This is done by evaluating any images done of the knee such as MRIs or X-rays in combination with a physical examination of the knee with a diagnostic ultrasound to take a live look inside and see where the damage is.
This helps our staff determine if a patient is truly a candidate for the regenerative medicine treatments in our office and which type of treatment is best suited for them, from Prolotherapy and Platelet Rich Plasma (PRP) to Growth Factor.
Once we understand where and what the damage is, we can use a simple, ultrasound guided injection to deliver targeted treatments to the specific area of damage in the least invasive way possible. The post injection process is also less complicated than surgeries. There is no downtime and little to no change to the patient's daily activities is required.
Exercising the knee is limited for 30 days while allowing the injections to adhere to the damaged areas and begin to healing process. In contrast, surgical procedures require considerably longer and more restrictive periods of down time.
With any of the treatments, improvements occur over a 6-to-12-month period of time. Unlike surgical treatments where recovery can be painful, our patients begin to see changes in their pain and function within 6 to 8 weeks, initially beginning with small changes in pain levels to increasing changes in the overall function of their knees.
Patients are followed up every 30 days to assess progress and begin a comprehensive rehabilitation program to begin to strengthen the knee as it heals.
Regarding the efficacy of regenerative stem cell treatments, up to 75% of our patients experience dramatically reduced pain and increased function. They regain the ability to do the things they want to do from walking on the beach to climbing stairs without the pain they had been experiencing.
The option of Regenerative Therapy treatments in San Diego is changing the landscape for patients suffering from common osteoarthritic knee issues and gives them a conservative choice for therapy to regain their lives with less pain and increased mobility.
Founded in 2017, StemX is located at 124 Lomas Santa Fe Dr., #206, Solana Beach, California and can be reached at 858-228-4189.
We provide regenerative medicine services for orthopedic, joint, muscle, and tendon injuries. Our staff is specially trained in regenerative treatments providing natural, non-surgical therapy to repair, rebuild joints and cartilage in - knees, shoulders, ankles, hips, backs, necks, and more.
Typically, with one treatment and minimal to no downtime, StemX is on the cutting edge of regenerative medicine for orthopaedics. We enable patients to get out of chronic pain and increase mobility without the need for surgery.
References
https://www.nejm.org/doi/pdf/10.1056/NEJMoa013259
https://www.nejm.org/doi/full/10.1056/nejmoa0800777